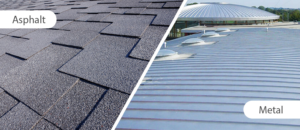 You might feel overwhelmed by the number of choices available if you are in search of a new roof. Metal roofing is becoming more popular than asphalt shingles. Which one is best for you? Let's take a look at each material's pros and cons.
Asphalt Roofing
Asphalt shingle roofs are a cost-effective option. This makes them an attractive choice for homeowners who have limited budgets. Asphalt roofs also offer a wide range of styles. You can choose from a range of asphalt shingles, including three-tab and laminated, to complement your home's exterior and enhance its curb appeal. Asphalt shingles are a good choice if you need your roof to be installed quickly. These shingles are lightweight and easy to cut, making them much easier to install than other types. There is very little preparation work required and no special tools are needed. Asphalt shingles are easy to install and easy to replace. You can actually have individual shingles replaced as needed instead of a complete roof replacement.
Metal Roofing
Metal roofs are known for their durability. Metal roofs that are properly installed can last 40 to 70 years, and can withstand extreme weather conditions like wind gusts up to 140 mph. They are resistant to rust and won't crack or corrode over time thanks to their rust-proof coatings. They are also 100% recyclable, which is another benefit. Metal roofs can be energy efficient as they reflect radiant heat instead of absorbing it. This can help to reduce your energy bills. You don't have to be concerned that your roof will appear bulky and ugly. Metal roofs today come in a variety of vibrant colors to enhance curb appeal.
Metal roofs have their pros and cons. A metal roof can be more costly than other types of roofing, which is why many homeowners hesitate to make the investment. Metal roofs are more expensive than asphalt roofs, because they require more labor and materials. Metal roofs are known for their durability but can also be damaged by hail, large fallen branches, or other airborne objects. Noise can also be caused by debris impact. This issue can be avoided by proper insulation.
This post was written by a roofing specialist at All Star Roofing. We offer the best roofers in Tampa Bay FL. We are a family-owned and operated roofing business, striving to be the best in our industry. Our family has been in the Tampa Bay area for over 60 years, and our objective has always been to provide roofing services at a fast, reliable, and competitive rate. All Star has a tradition of quality workmanship, servicing residential and commercial properties. Click here for more information!